Mumbai – The city of street food innovation
Mumbai is the land of the nava (new in Marathi). It's a city on the run 24×7. If you're standing at the door, you're supposed to jump out of a moving local train when it starts to slow down when entering the station. Else, people start pushing you from behind. And it doesn't matter whether it's during peak or off-peak hours. The train is full or empty; the pushing still happens. The necessity to move ahead quickly at any cost, is a very Mumbai phenomenon and's very evident in all facets of social behaviour. And the same applies to Mumbai
street food
. This's one city that's probably developed more innovative street food than any other. Be it Chopsuey dosa, Pav bhaji pizza, Chinese bhel and many such unique dishes that're very Mumbai. And these dishes are very real. Not made up just for the heck of it. Thousands of 'em sell on the streets of Mumbai everyday. Now..now.. You might or might not agree with this fusion/confusion direction of Mumbai street food, but that how it is. And that's what people like.
Kepsa at Afzal restaurant
I heard about Kepsa when I was in Pune. Around mid 2012. Two of my colleagues Atul Sunder and Pankaj Shinde would keep mentioning about how fascinating this dish was. So finally when I went back to Mumbai, I made sure I took time out to have the Kepsa. Pankaj, a local Mazgaon lad, who has since then shifted back to Mumbai; took me there. Mazgaon is of course far simpler a place than how it's made out to be – The Dockyard…..Arun Gawli's home turf. One might expect gangsters roaming around with Kalashnikovs. But that's not really the case. It's as normal as any other part of Mumbai or for that matter Urban India. Young boys zipping around in their new bikes, aunties out evening shopping, hawkers selling their fare on the street. Typical middle class India.


Indian Street Food Indian Food Images Thali Menu Calori Chart Picture Photography Item Meme Photos Dishes
Pankaj and I went and sat down inside Afzal restaurant. And ordered the Kepsa. What came totally surprised me. First of all, it came in a big thal. That immediately got me thinkingKabsa. Hmmm! So I called for the owner Ali Asghar Amir Beiki. He explained that he first saw this dish at the Persian Darbar in Mumbai. He was excited by the concept but found it too dry n' unappetising as a dish. He then recreated this in his hole-in-a-wall using Indian-Chinese style fried rice topped with tandoori chicken, eggs and some salad. The very arabic Kabsa hence got converted to Mumbai street food as Kepsa. And By God! Afzal restaurant does a mean version of it. That tandoori chicken and fried rice were something else. I haven't eaten this level of tandoori chicken in years. It was stunning! And most Indian-Chinese places have now lost the art of making a good fried rice. The Kepsa at Afzal restaurant simply took me back in memory lane to the days when a good, well-made fried rice was a joy to eat. I was so impressed that a hole-in-a-wall is doing this level of food.
The restaurant is of course around 100 years old. Started by Ali's grandfather who came from Iran. They do Indian and Indian-Chinese food 'n some Mumbai street food. But what you should really have's the Kepsa. It's simply brilliant. I fully agree with Pankaj when he says that this's his favourite Mumbai street food dish. Amen!
Indian Street Food Indian Food Images Thali Menu Calori Chart Picture Photography Item Meme Photos Dishes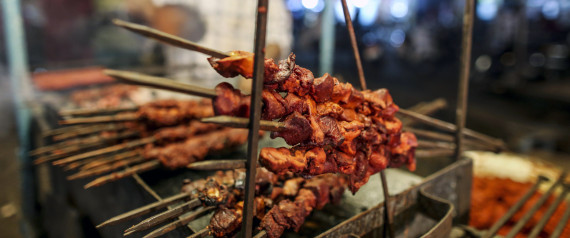 Indian Street Food Indian Food Images Thali Menu Calori Chart Picture Photography Item Meme Photos Dishes